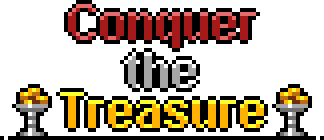 Conquer The Treasure (GMC Jam 32)
Made in 16h 52m for GMC Jam 32 with the theme 'Conquest'.

You play as a peasant-knight who go on a quest to conquer all the treasures!
The game has 20 levels, some music and sound.
Turned out pretty decent for the time spent on it.

Install instructions
1 - Download the zip.
2 - Extract.
3 - Run ConquerTheTreasure.exe.
Download
Download
ConquerTheTreasureGMCJam32_ORIGINAL.zip
10 MB
Comments
Log in with itch.io to leave a comment.
Didn't reach the end but gave it the ol' college try. :)

Thanks for playing the game, I'll watch the video and leave a more in depth comment on youtube. ;)

It was surprised by this since I saw you talking about new Zordak goodies and didn't know you were doing the jam. :)
Yeah, I didn't know either before the second day of the jam had already started, I just thought I could try joining a jam for once and see what I could make.
And yes, new zordak things will come.

Also, I've now left a wall of text as a comment on youtube. ;)